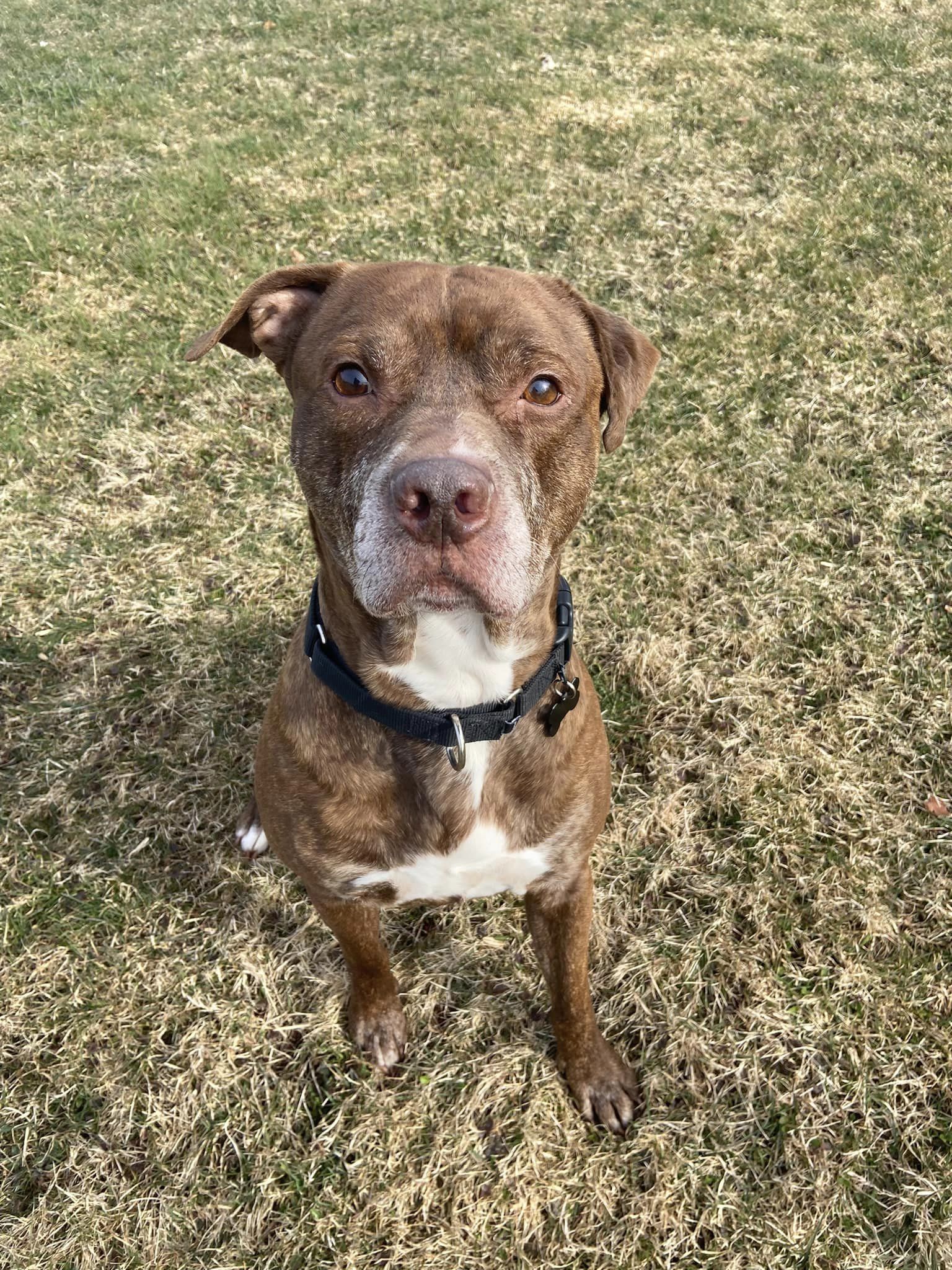 Meet Bosley! This little (55 pounds) mature man (9 years) found himself in a very overcrowded shelter at GCAC. He came in as a stray missing a lot of fur (from fleas) and a hematoma. GCAC had him all fixed up and he needed to get out of the shelter. He does get along with other laid back dogs. He has lived with cats before but he would have to get used to that again, he's a bit off putting at first. You wouldn't know he's an 9 year old boy, he loves to run and play! Bosley still has a good amount of energy and does love walks and especially CAR RIDES! He had some separation when he first came into rescue but with decompression time and a routine he's doing great! He still would like someone home more than not. When he does find his new family he will need the same decompression time and will need to be crated (provided) so if you are anti-crate he's not the boy for you. We don't know how this love bug ended up in the shelter or why, but what we do know is that he is ready to live his best life! He LOVES women and seems to need/want one in his life, he follows his foster mom around like glue! Within just a few days he became very attached to his foster mom so I feel he will do the same in a new home. Neutered, current on vaccines, heartworm negative and microchipped.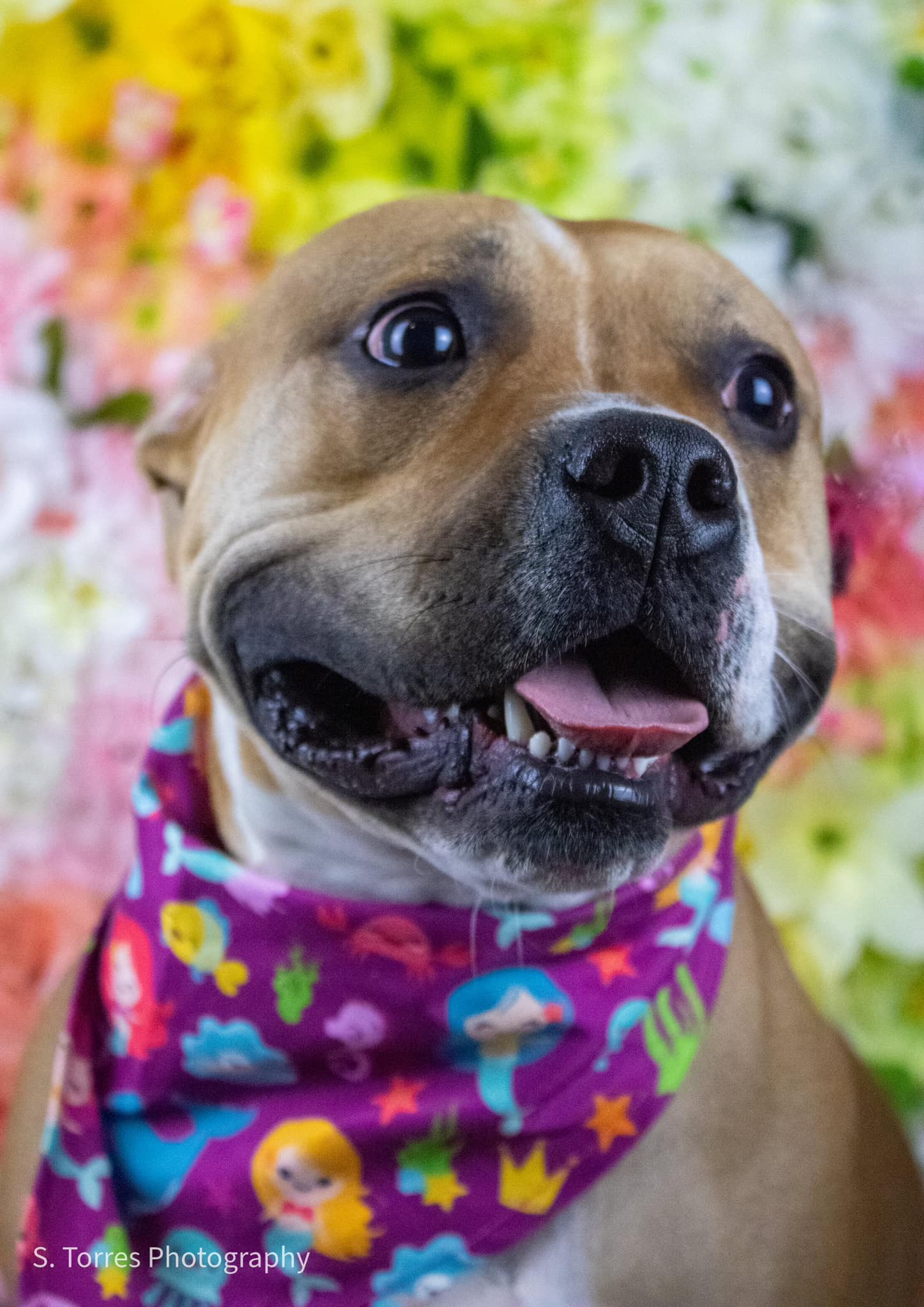 Stella! This 18 month old small Staffy mix is ready for her family! She gets along well with other social dogs and cats! Though she will need to be fed separate, which is easily managed in her foster home of 3 dogs and 2 cats 🙂 Stella is housebroke, but does not prefer the crate and is fine in a room to herself. Small girl about 50 pounds with medium energy. She is working on leash manners and she does get REALLY excited meeting new people! Super cute shorty that will need a family to keep up on her skills so she can be the best that she can be! Kids over 10! Spayed, current on vaccines, heartworm negative and microchipped!
Adopt your new best friend!
Fill out and application or get in touch with us today to get started adopting your new dog.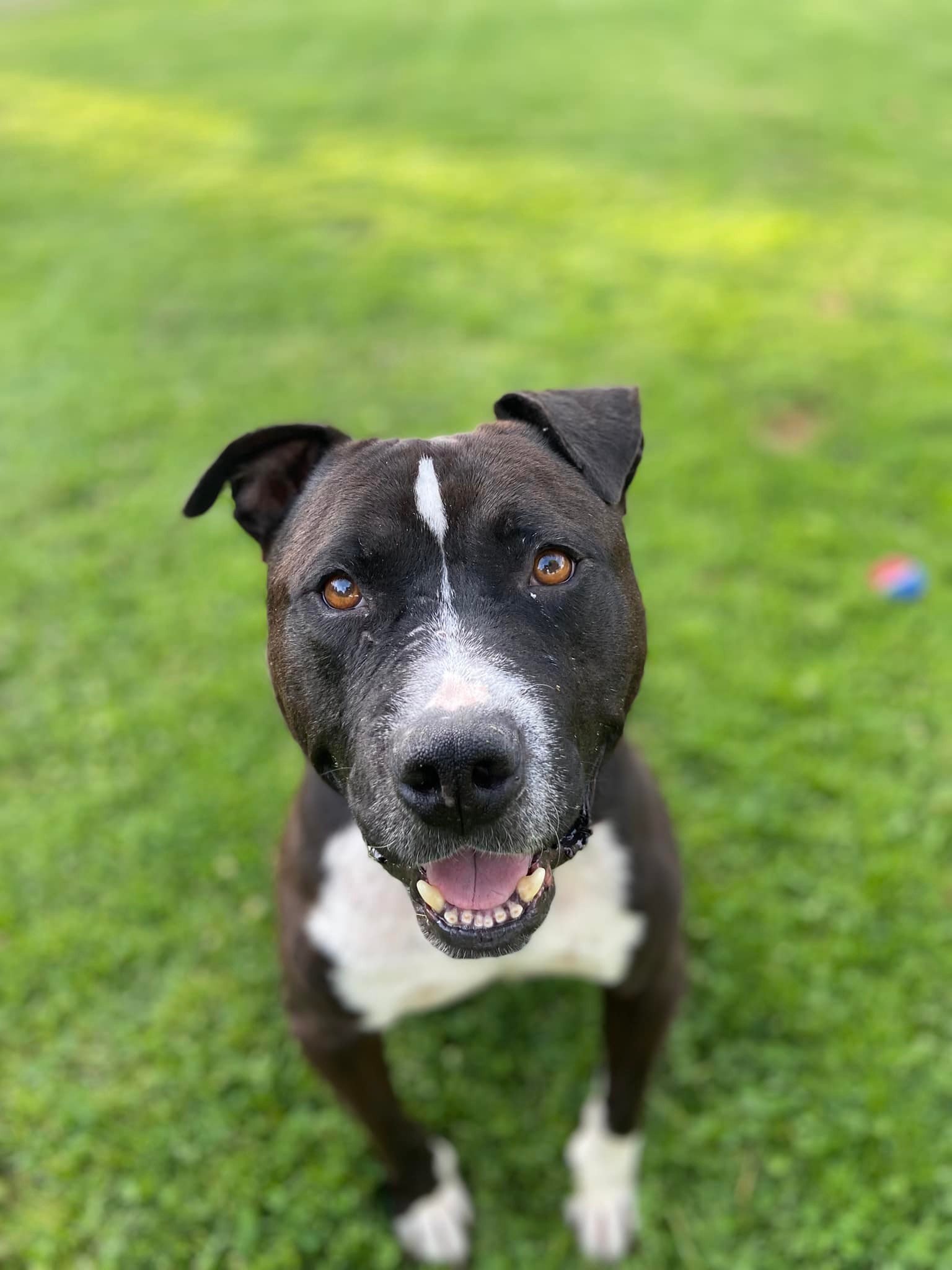 ETHAN!  5-7 years young, middle aged & well behaved! He won't chew your shoes, he doesn't need to be crated when you leave him alone, and he doesn't need to go for a walk everyday. He's perfectly content chillin at home being a couch potato 🥔 🖤walks gentle on the leash, rides well in the car 🖤 no human is a stranger to him, he is a total lover boy 🖤Mr Steal Yo Girrrrrl- he charms alllll the ladies but he actually is more of a dudes dog, he seriously lights up when a man approaches him with pure giddy and excitement. Would make a great garage buddy. An even better wing man 🖤 he smiles when he's excited and it's the sweetest thing eva 🖤potty trained and crate trained too, knows a bunch of tricks 🖤 has been patiently waiting for a chance at a FUREVER fam since June of 2022. We pulled him from DACC full of wounds, heart worms, and hope- when we pulled him from his cage even as one of their longer residents he smiled showing all of his teeth and didn't pull on the leash.. didn't bark at other dogs.. didn't have a care in the world, he wiggled his butt right into our hearts and got his freedom ride that day He's had a few stints at being adopted, came back for various reasons that don't really make him less worthy (sometimes things just don't work and it sucks) 🖤 sweetest & chillest dude we know 🖤 He can now go to adoption events, see other dogs in passing, he doesn't want to meet and greet them. He doesn't want to live with them. 🖤 no cats , no dogs- only pet home 🏠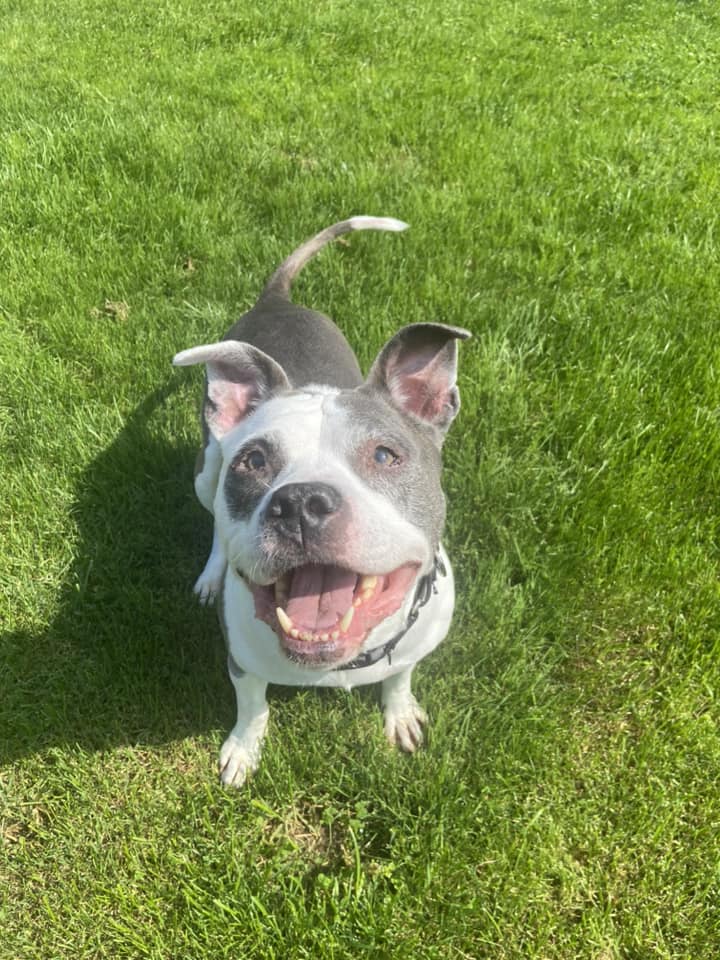 Elsa Marie is a 9.5 year old Pitbull, ready to find a retirement home! She is equal parts mellow & chill, mixed with spunky & ready for adventure. She is great in the car & on leash. She's been good with any human she's met & has been around dogs of all sizes; she doesn't need a dog sibling in her life though, she could take them or leave them 😉 She will need a forever home without kitties. Elsa Marie is quiet 95% of the time, but catch her in one of her spunky/zoomie moods & she will "talk back" & make you laugh with her silly antics. She's feeling great after her double entropion surgery, & she's spayed, microchipped, current on vaccines, heartworm negative & on preventatives. She's a small stocky, 55 pound, gal ready to melt your heart & love you forever! I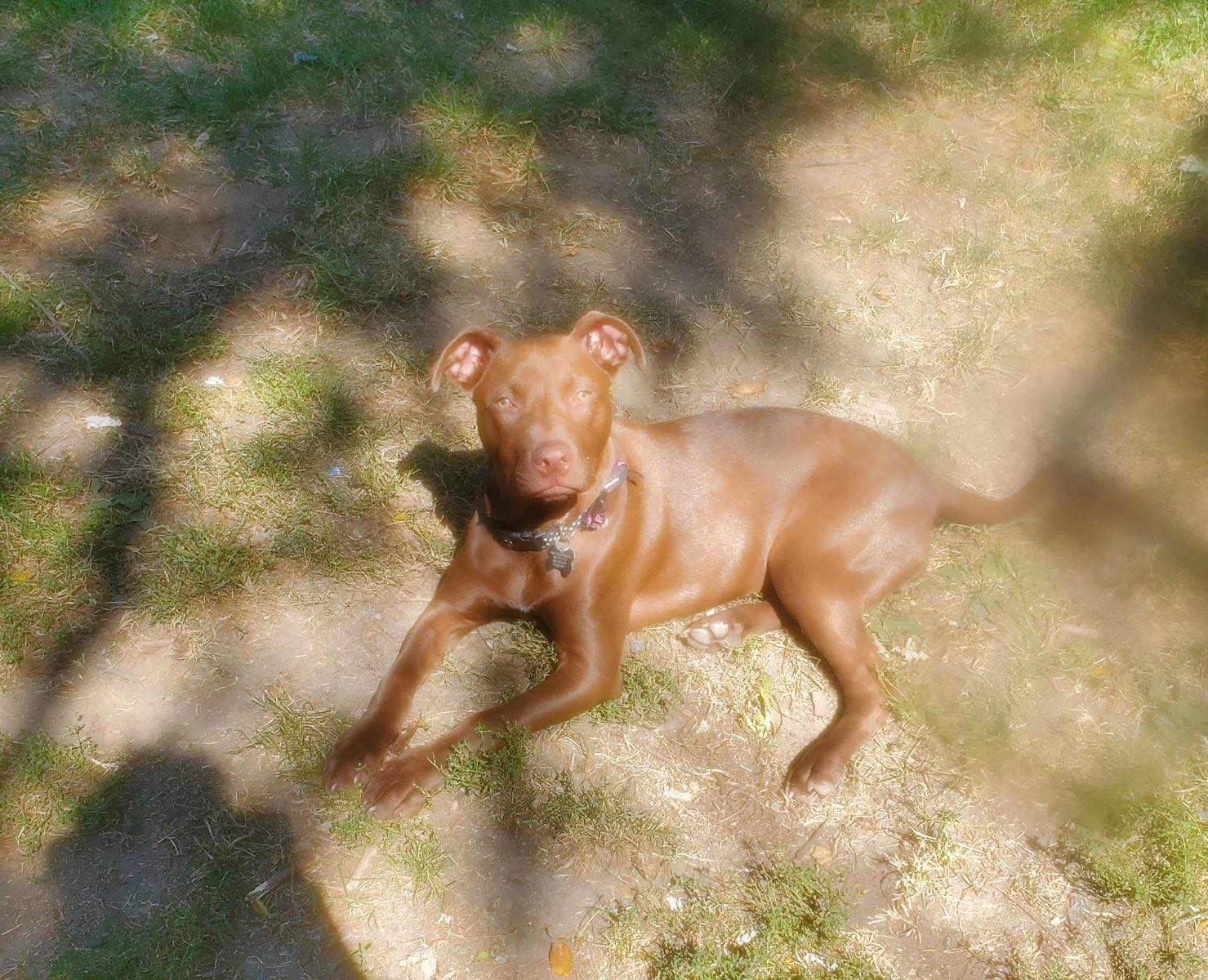 Meet Miss Lady Jane. This feisty and friendly copper-eyed, 6 month old, little princess is looking for her furever home.
She is house and crate trained, a good listener and quick learner.
She loves cow hooves, playing tug of war, walks at sunset, and basking in the sun. She's great with other dogs and makes a great snuggle buddy when it's quiet time.
Kids 6 and older, has not met cats!
Spayed, current on vaccines, microchipped and on preventatives!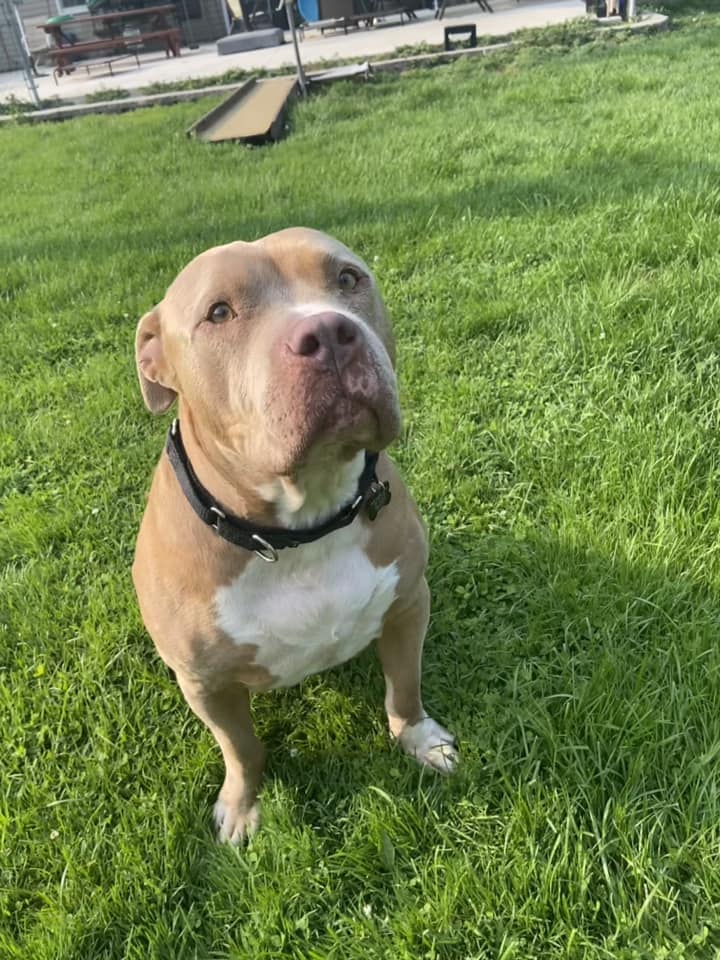 Misfit Leo (aka Theodore aka Fattttt Albert aka tiny baby ❤️❤️❤️❤️) Senior Mastiff/ Pit mix – 8 years old and looking for a retirement home as the only pet He's an oversized couch potato 🥔 who takes the term lazy sloth to whole new level- if you're looking for a dog to drool, fart, and take up just a littttttle bit of space on the couch next to ya this could be your guy 😍 Leo is potty/ crate trained but doesn't need to be crated. He is a gentle giant in your home and content lounging in the sun, sleeping in until noon, or being a full time assistant in dinner / meal preps and taste testing. He loves toys and bones. The most sensitive boy- a big teddy bear 🧸 Porky the pig— we mean Leo-dore is looking for an easy chill house where he can snooze the days away and live the life he's always deserved 🥰 Interested in Leo??
Macho is a 3 year old American/English Bulldog mix.
He didn't have the best start in life but he's ready to put that behind him.
Macho lived on a chain for the first 3 years of his life until he was finally surrendered.
Now he is getting used to living in a house like all dogs should!
Macho will be available the beginning of October but he will need a patient adopter that understands decompression.
He is good with other dogs, he's not really sure about cats so we are going with no, dog savvy kids 12 and up. Neutered, current on vaccines, heartworm treated and microchipped.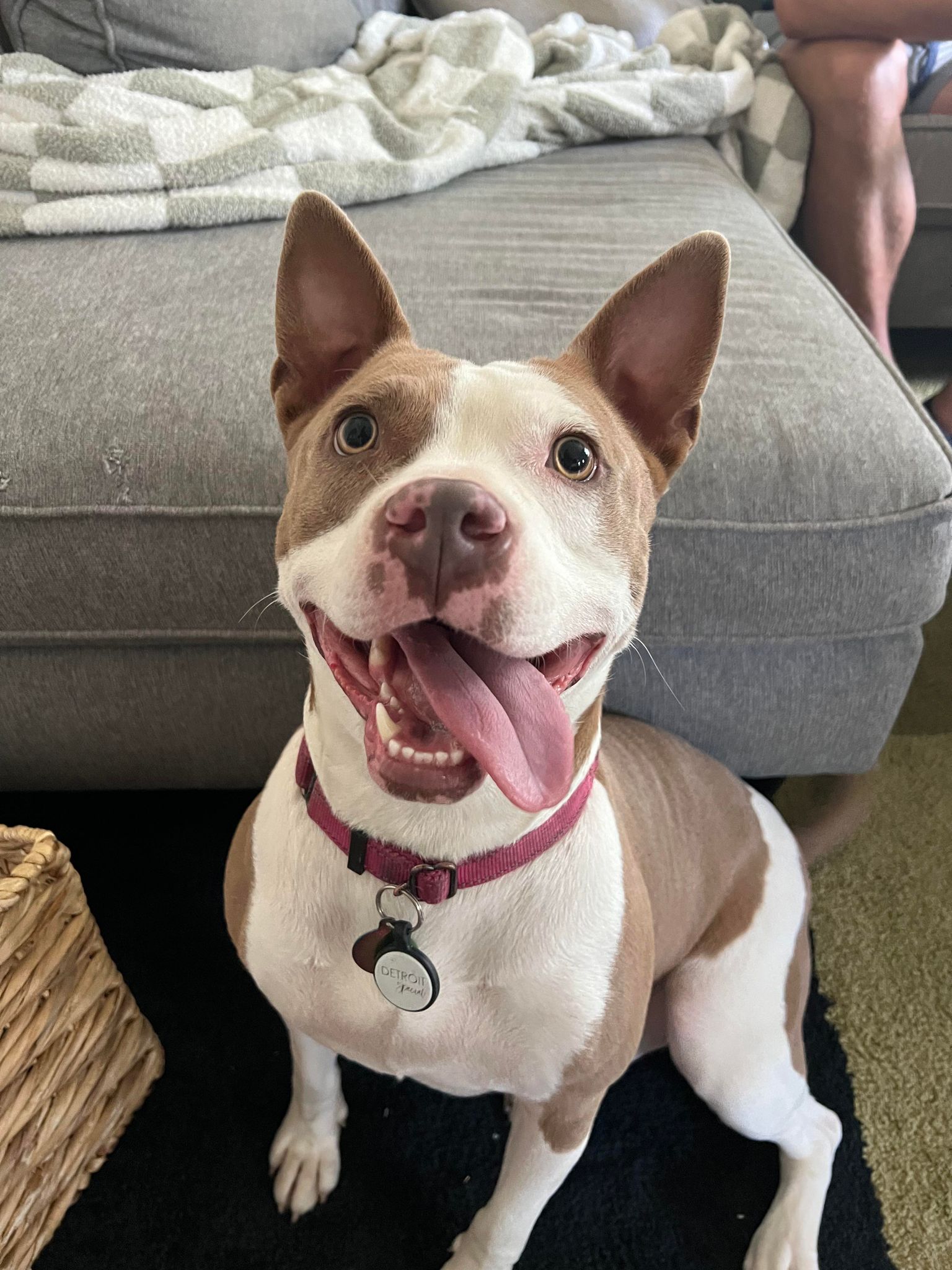 Mamacita aka Mama – petite pittie mix around 3 years old, 50 lbs Mama is the friendliest girl and loves being right next to her people. She can take a second to warm up to strangers when they're in her home but give her 10 minutes and she'll be asking to kiss you. She loves going out and exploring new places and is great with other dogs! She's met both small and large dogs and has done great with them! Mama didn't have the best start and lived the first 2.5 years of her life on a chain outside. Because of this, she's still mastering potty training but is doing great and only occasionally has an accident in the house! Mama loves being a couch potato and cuddling up next to you, and she also loves being active! She would be a great adventure buddy! She isn't always the best about looking where she's going when she's zooming around so I wouldn't recommend her going to a family with young kids because she'd likely knock them down… a lot. Mama loves playing with toys (especially balls) and does great with sharing her toys with her foster brother! She also enjoys rolling around in the grass and will flop into the ground at least once every time she's outside. Spayed, current on vaccines, just completed heartworm treatment, microchipped, DNA tested!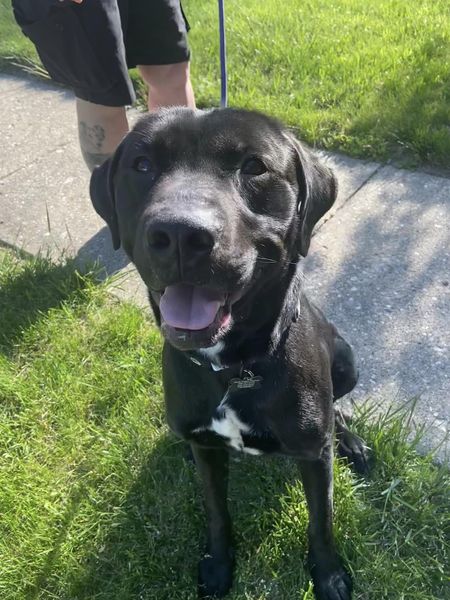 Weasel is a 3 year old Lab mix! His smile tells it all.. he is a medium/high energy boy! Weasel is ready for his furever home after 2 months in foster. He was surrendered when his parent could no longer care for him. In his down time he loves to snuggle too. Weasel would like someone that isn't away for super long hours. Ya know what he likes? To be vacuumed! He LOVES it and lays right down for it. Not bothered by the lawn mower, so much that he will hang out with it.. eek. lol Crate/house trained. Dog friendly Cat friendly Kids 10+ Neutered, current on vaccines, heartworm negative, microchipped!