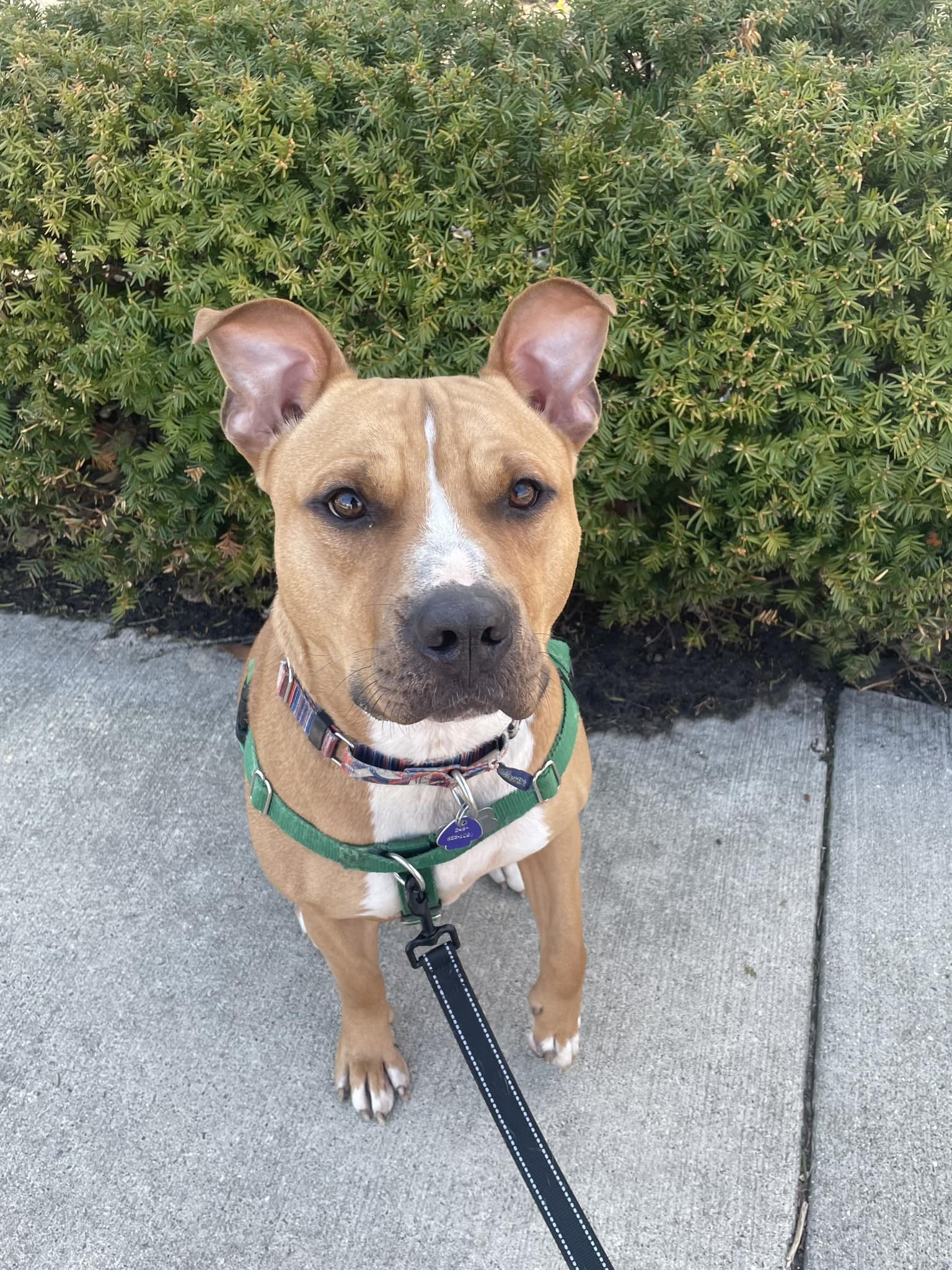 Ace! Here's the thing- Ace is an extra loving, friendly, and big personality guy. He loves other dogs and all people. However- He is not a perfect dog and sometimes can give in to his alter ego- "ace hole" 😬 ( ace hole is a 12 week old puppy that forgets he is 70 lbs and strong AF. Ace hole mouths and chomps/ chews on everything in his sight, bull dozes anything near him, and might poo in the house as he parkours off the sofas. Needless to say- Ace hole is ALWAYS the life of the party 😉 ) BUT in the same breath if you're looking for a fun & energetic dog, who loves life and everything with it, who would make a great adventure doggo and an even better companion to come home to every night. Who will NEVER let a day be boring or lame. Who will cause a little bit of chaos, a whole lot of laughter, even more love, and a little bit of trouble here and there- this could be your boy 🧡 Ace was turned into Oakland County Animal Shelter last May- he was just a pup around 6 months or so, they were moving and couldn't bring him with them- he sat there patiently waiting for someone to notice him until October when we pulled him.. and he's been very patiently waiting in a foster home ever since.  Ace is about 65 lbs and is a very strong, athletic built dog. He loves other dogs. He is a little too interested and rough n tumble for our liking to live with cats. He is crate and potty trained. He knows a lot of training tricks and does love to use his brain to learn and figure things out. He loves going new places, exploring new things, and meeting new people. He also loves chewing a Nyla bone on the couch. He will follow you everywhere and wait outside the shower while you rinse 🚿 Ace is just over 2 now and ready to find his furever family: his adoption fee is sponsored 🧡 Help us find the most perfect home for our imperfect pup 🙏🏻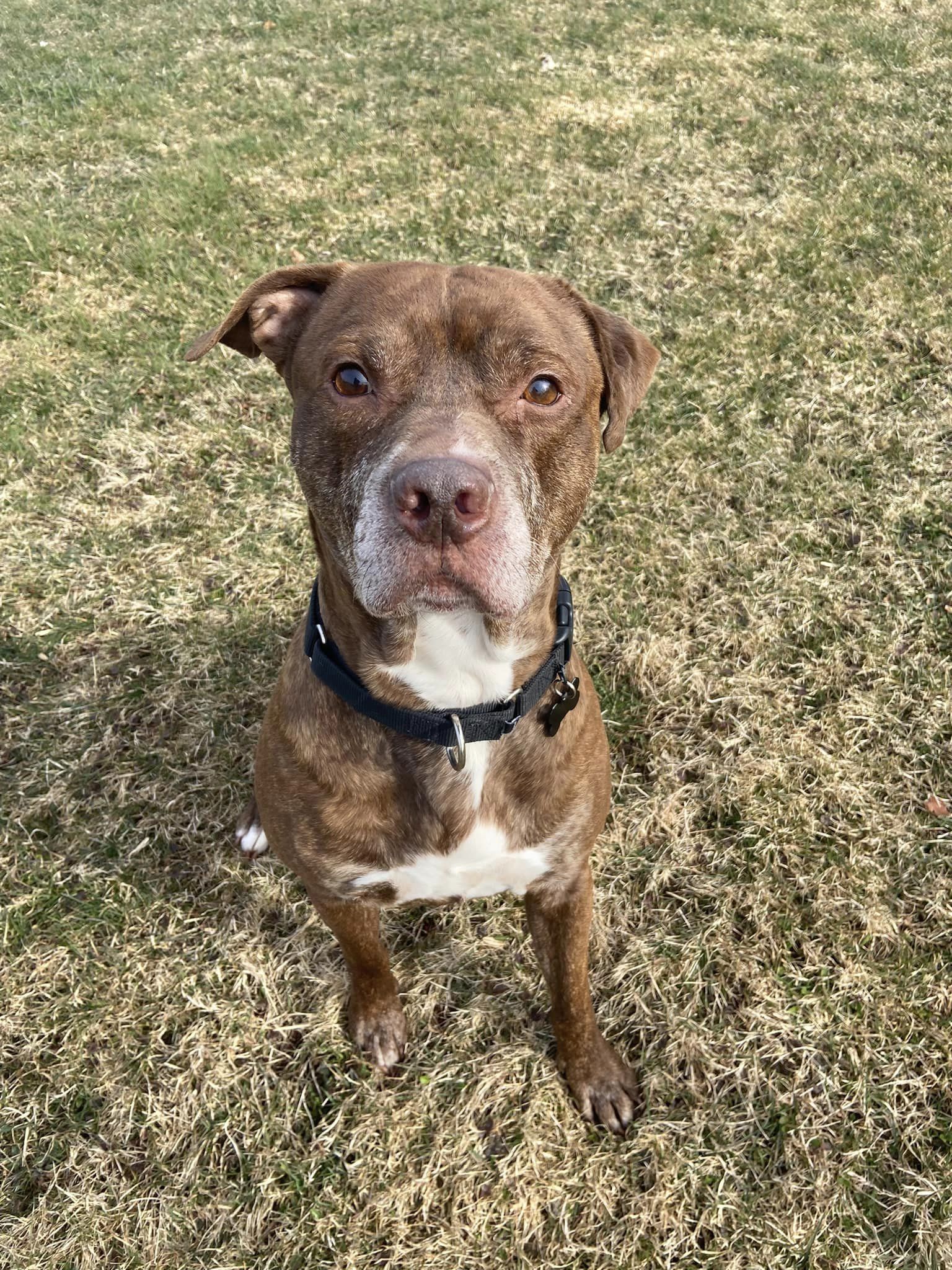 Meet Bosley! This little (55 pounds) mature man (8 years) found himself in a very overcrowded shelter at GCAC. He came in as a stray missing a lot of fur (from fleas) and a hematoma. GCAC had him all fixed up and he needed to get out of the shelter. He does get along with other laid back dogs. He has lived with cats before but he would have to get used to that again, he's a bit off putting at first. You wouldn't know he's an 8 year old boy, he loves to run and play! Bosley still has a good amount of energy and does love walks and especially CAR RIDES! He had some separation when he first came into rescue but with decompression time and a routine he's doing great! He still would like someone home more than not. When he does find his new family he will need the same decompression time and will need to be crated (provided) so if you are anti-crate he's not the boy for you. We don't know how this love bug ended up in the shelter or why, but what we do know is that he is ready to live his best life! He LOVES women and seems to need/want one in his life, he follows his foster mom around like glue! Within just a few days he became very attached to his foster mom so I feel he will do the same in a new home. Neutered, current on vaccines, heartworm negative and microchipped.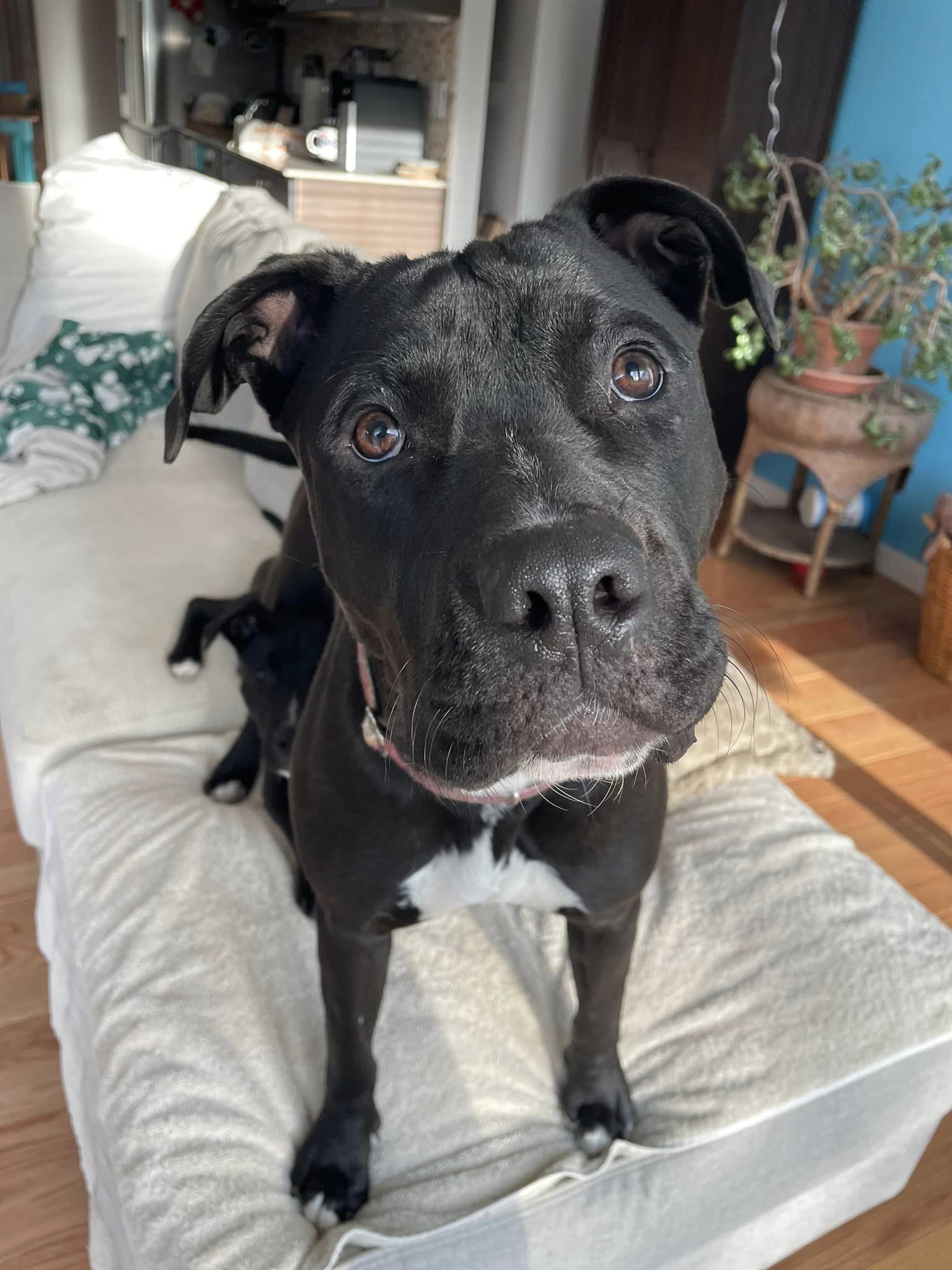 Carrot cake here, I'm a sweet 67lb lab/pitty mix. I'm about 1.5 yrs and full of life. I love all attention. I'm a super fun dog! I love to go for walks and I do great on them too! I love to cuddle and would love a movie night. I love other dogs so much that I get a little over excited when I meet them but I will do great with them. I'm a smart girl that needs a chance. I was in the shelter for 5 months because I'm a black larger dog. I would do good with kids 12 and older. No cats or small animals as I think they are toys. I have the best smile and just want love!! I'm crate trained and working on the basics. I'm spayed, current on vaccines, heartworm negative, microchipped. Could I make the perfect addition to your family? Fill out an application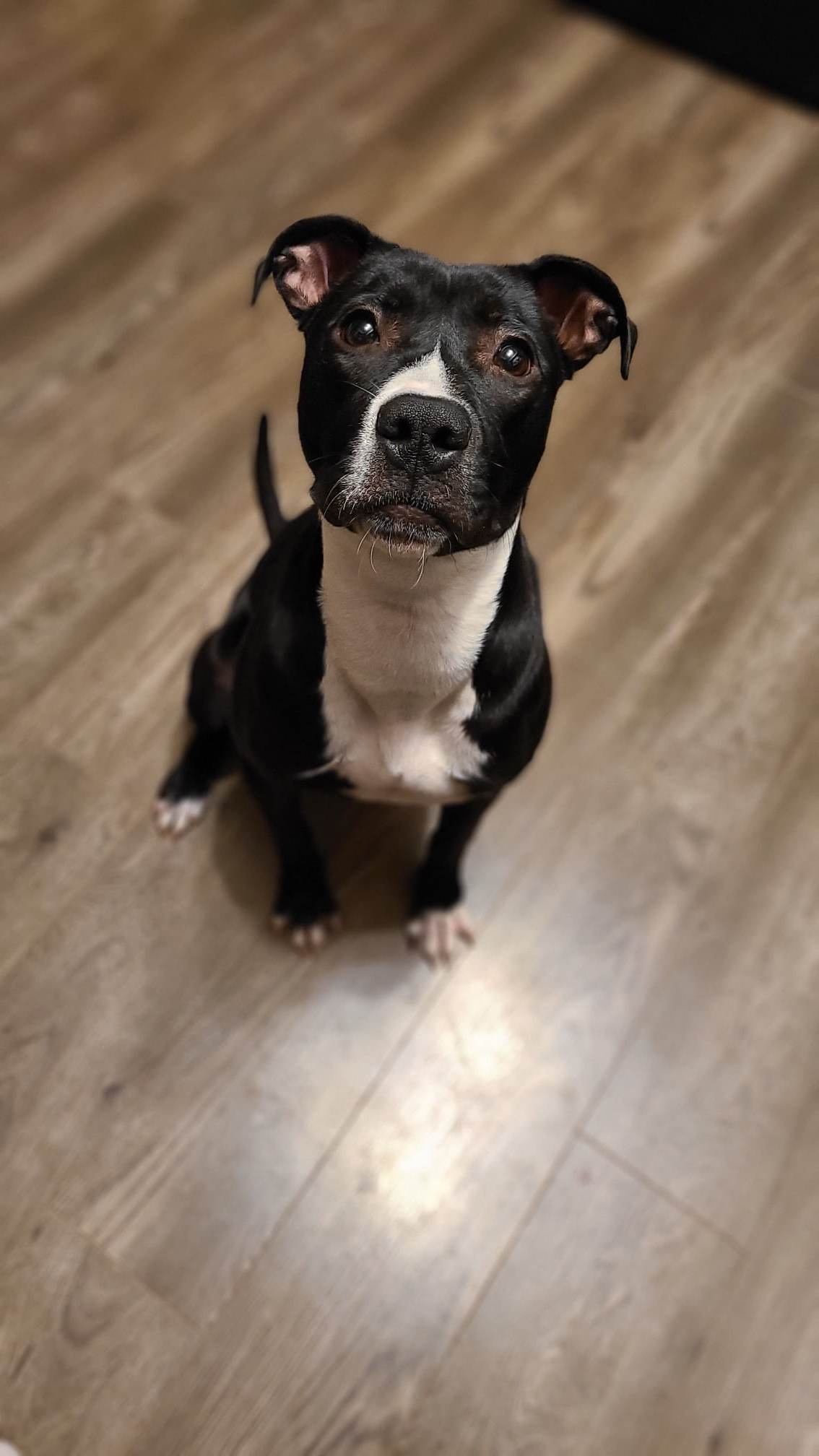 Dani is a pint-sized Terrier (Kangaroo?) Mix 40 pounds– who loves life & loves everything! She knows no stranger, & is searching for a person or family to call her own. DOB: 3/17/22. Dani does really well with structure & does aim to please; she's mastering basic commands & obedience, is house-broken & crate trained. Dani can be a bit over-zealous when meeting new dog friends, but loves to play; a home with an active fur-friend would be ideal for her. She would do well in a home with children 5yrs & older. Sweet girl Dani wandered into a Detroit fire station & thanks to a gracious foster home she was able to be rescued & become a Misfit. Need an adventure-buddy? Dani is your girl! She's equal parts cuddly & ready to party! A home that will continue to offer structure & guidance to help her be the best girl she can be is all we can ask for our sweet Dani girl! She is spayed, current on vaccinations & preventatives, microchipped, & ready to steal your heart! Please apply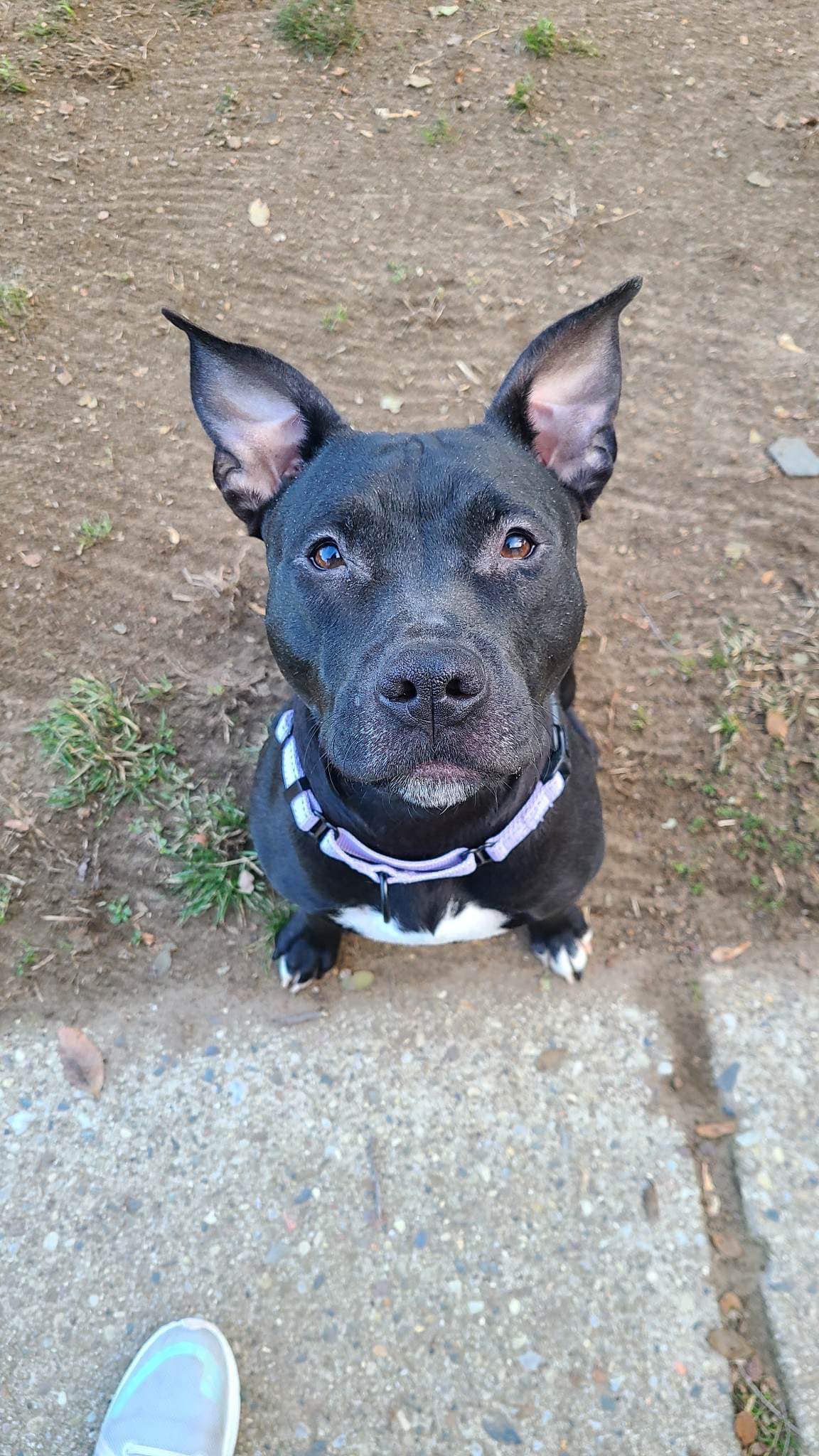 Misfit Dory! This teen mom stole our hearts with her wiggle butt and big ole pittie smile when we met her at DACC with her five 2 week old (very unhealthy babies ) Dory's calling in life may not have been motherhood but it definitely is being someone's best bud 🖤 She is a smaller girl at about 50 lbs and sweet as can be 🥰 At only about a year old she is still a baby herself and very much looking forward to spending her life being treated as such. Dory is dog friendly and would do best with another dog friend in her furever home. She is a super lover girl and very excited to meet her potential family 💘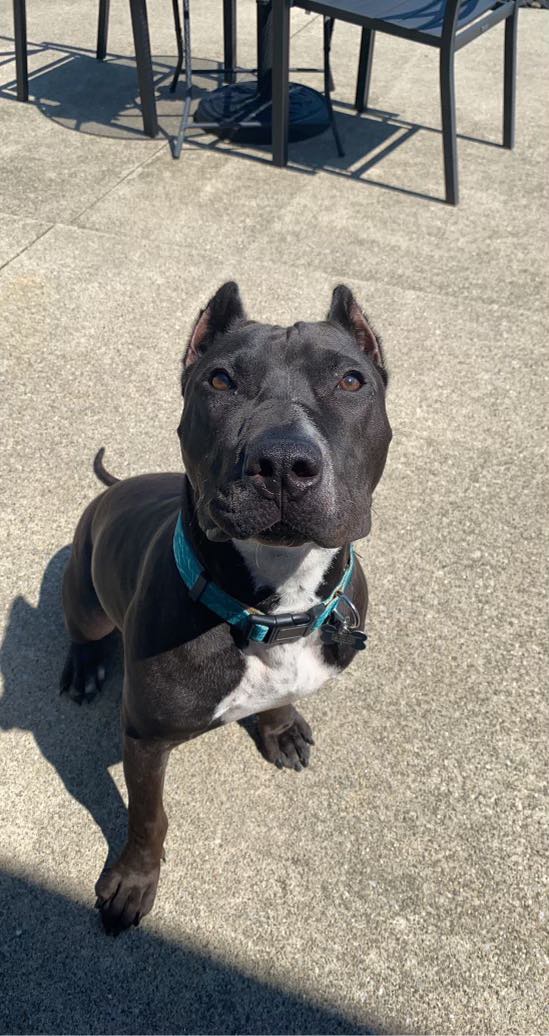 Griff! Hunk of burnin love! Allow us to introduce you to the muffin who is guaranteed to steal your heart – Meet Griffin. Griff is a 1.5 year old Pittie mix and about 60 lbs of American muscle, good looks, and silly shenanigans. He is crate and potty trained and doing great with picking up on training commands and learning how to walk nicely on the leash! He knows how to sit, give his paw, and walk through your legs for some fun dog dancing! He is definitely more high energy than laid back, but once you tucker him out man does he love to snuggle 🙂 And speaking from experience, he makes an excellent little spoon! He is dog friendly, No cats, No kids under 15. Could he be the one fur you? Neutered, current on vaccines, microchipped
The one and only- Noelle! Noelle came into misfits after living at the Oakland county animal shelter since November of 2021- yes over a YEAR.  Noelle is the most absolute little love ❤️ she's the perfect combination of sugar and spice and everything nice! This chunky monkey is about 40 lbs (but a little bulky right now 🤪) and made of pure heart and pure opinions 😂 it's never a dull moment with her in your life and she will let you know if you offend her in any way, shape or form 😂noelle walks well on the leash and is a perfect passenger princess in the car. She loves all people but wants to be the only pet in her dream home. Help her find her furever family and prove the wait has been worth it! 🥰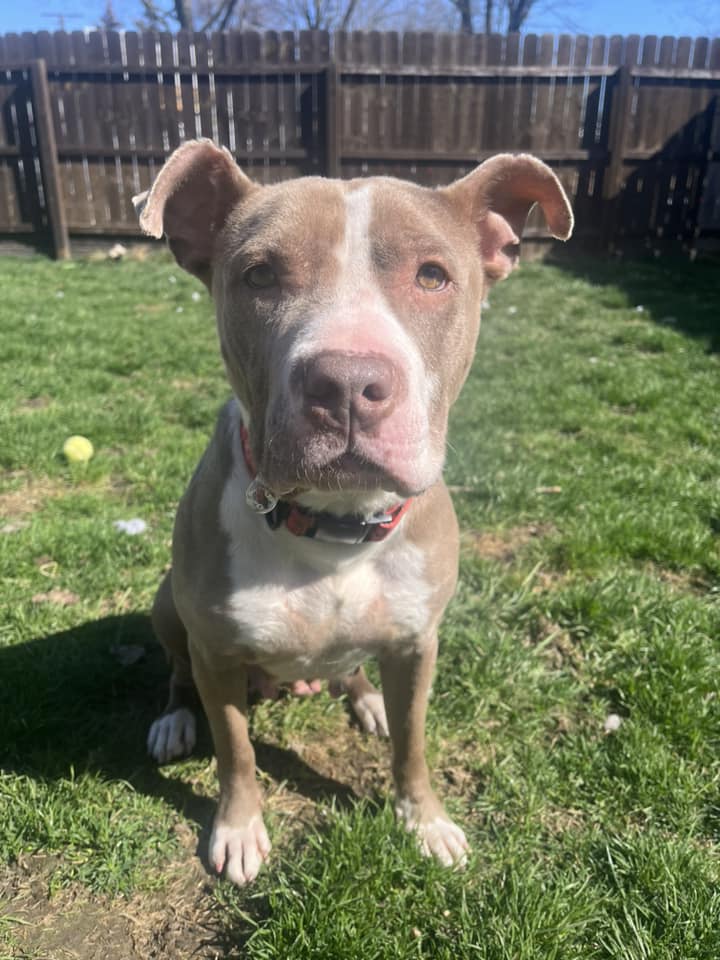 Meet Misfit Sharon This girl was rescued from a life of Hell and has honestly never looked back since the day she was freed from the weight of her heavy chain/ past life 🧡 Sharon is believed to be about 2 years old and is really just the sweetest and softest girl. She wants nothing more than to lay on a cozy dog bed and suckle her emotional support pillow.. She is so grateful for the warmth of a house and it shows everyday. Sharon was in ruff shape when we got her but she's put on some much needed weight, her wounds are all healed, and she's much more excited to meet people than she was when she first came into rescue. She is crate and potty trained. Want to show Sharon the life she's always deserved??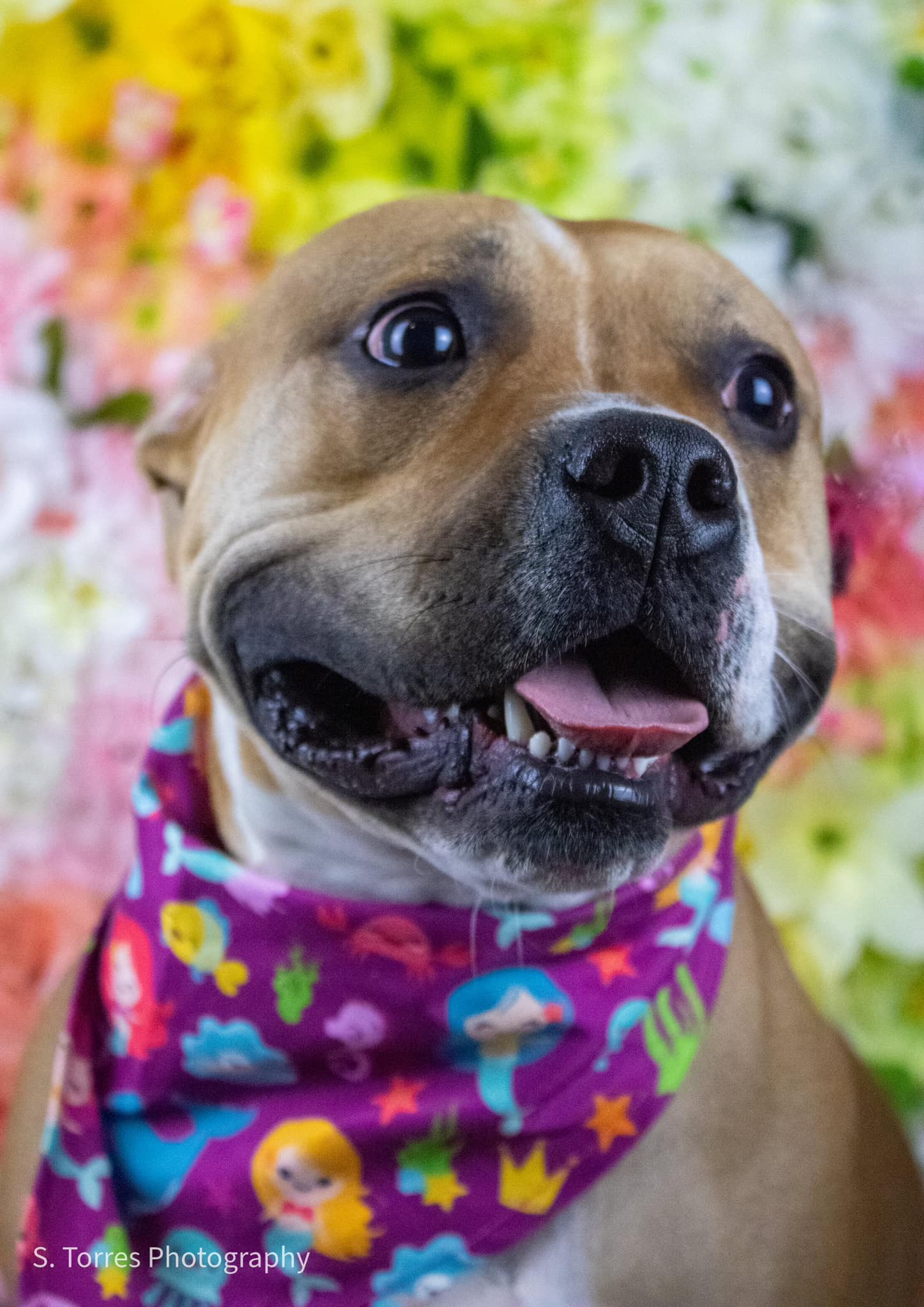 Stella! This 18 month old small Staffy mix is ready for her family! She gets along well with other social dogs and cats! Though she will need to be fed separate, which is easily managed in her foster home of 3 dogs and 2 cats 🙂 Stella is housebroke, but does not prefer the crate and is fine in a room to herself. Small girl about 50 pounds with medium energy. She is working on leash manners and she does get REALLY excited meeting new people! Super cute shorty that will need a family to keep up on her skills so she can be the best that she can be! Kids over 10! Spayed, current on vaccines, heartworm negative and microchipped!
Sully came to us from DACC very thin, URI and heartworm positive. He is now at perfect weight and heartworm treated
He is a big puppy, 2 years old, with a good amount of energy!
He knows basic commands. He rides perfect in the car, house broke and crate trained.
Sully is a goofy, handsome, friendly boy that is ready for his furever home!
Neutered, current on vaccines, microchipped and heartworm treated
*needs to be an only pet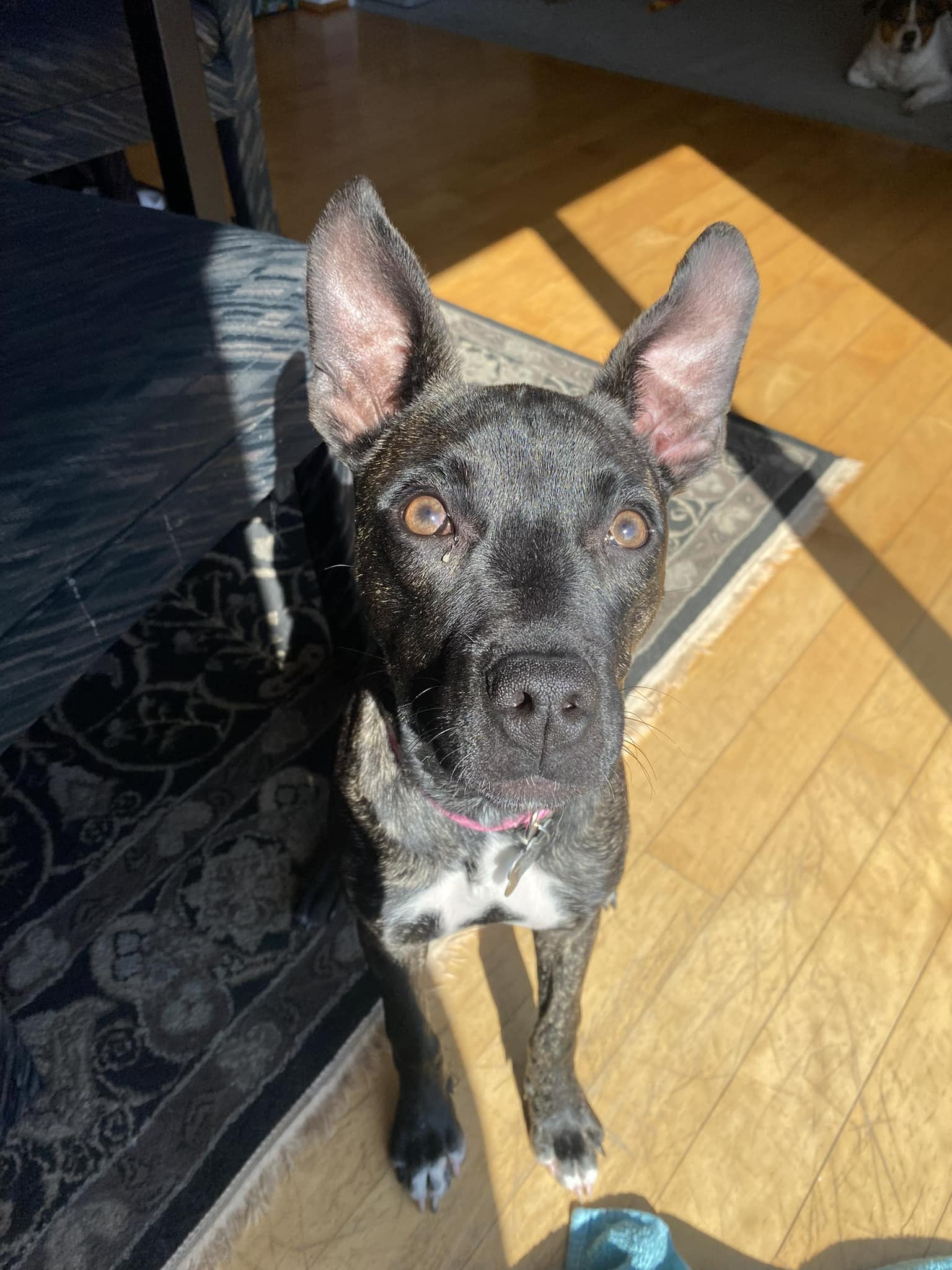 Meet Wednesday Addams, she may be the smallest of the Addams family bunch but she is by far the sassiest and most dramatic- in true wednesday fashion 😉 🖤 She is a bit timid with new places and people but once she gets over being shy, she loves to play, sunbathe & snuggle with her people 🥰 She was fostered with her brother Thing for a month and gained a bunch of confidence from him. She has attended puppy class and is very smart and treat motivated. She will need another dog in her furever home, she is fostered with smaller dogs and prefers dogs her size or smaller. Wednesday will need patience in her furever home and someone to work with her on building her confidence. ❤️ Think you could give a special home to a special girl?
Get Your Dog!
Fill out and application or get in touch with us today to get started adopting your new dog.